Biography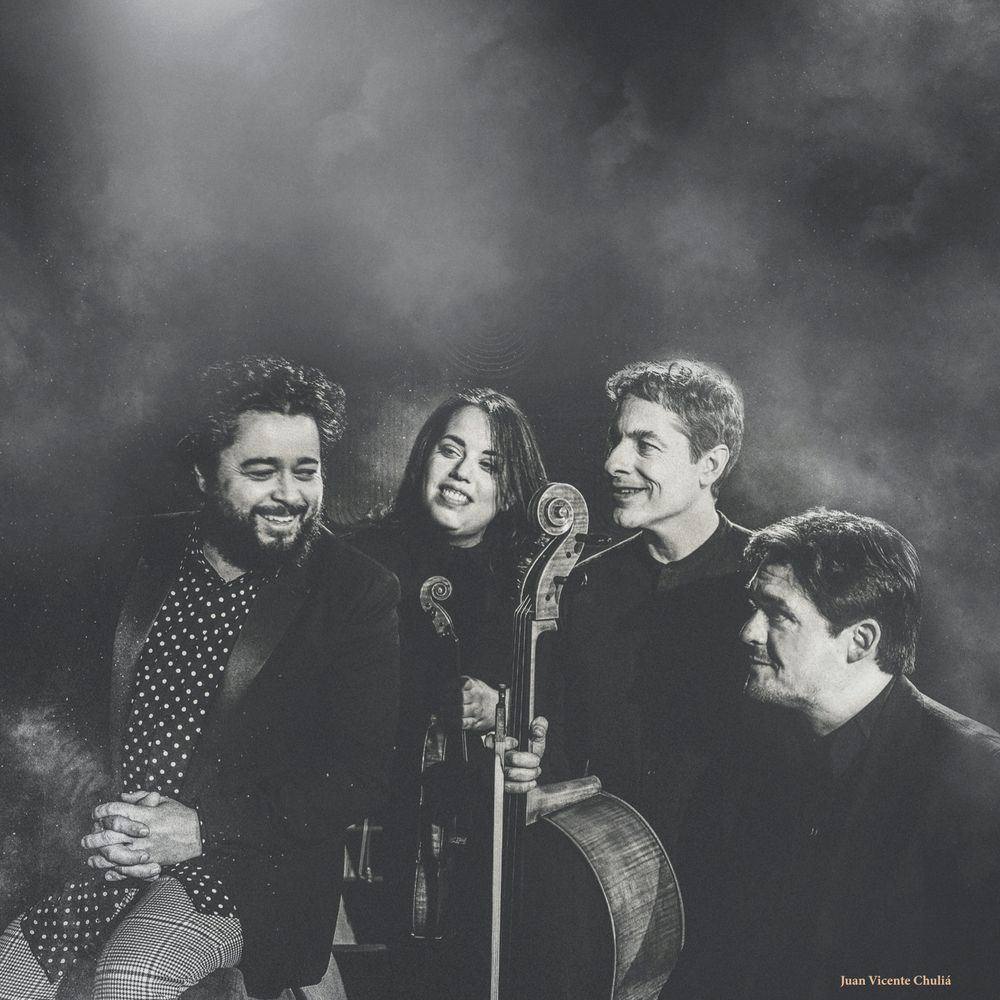 TRÍO ARBÓS
Awarded with Spain's National Prize of Music, the trio is formed by the violinist Cecilia Bercovich, the cellist José Miguel Gómez, and the pianist Juan Carlos Garvayo. Founded in 1996 and named after the Spanish violinist, conductor and composer Enrique Fernández Arbós (1863-1939), the Trio Arbós , based in Madrid,has established itself as one of Europe's leading chamber ensembles.
The repertoire of the trio ranges from the classical and romantic (complete trios by Mozart, Beethoven, Schubert, Mendelssohn, Schumann, etc.) to the contemporary, with specially commissioned works forming a significant part of the concert programs presented. Georges Aperghis, Toshio Hosokawa, Ivan Fedele, Mauricio Sotelo, Luis de Pablo, Jesús Torres, Hilda Paredes, Roberto Sierra, Bernhard Gander, Aureliano Cattaneo, César Camarero, José María Sánchez Verdú, José Luis Turina, etc. are some of the composers who have dedicated works to this prestigious ensemble. The trio has also collaborated closely with renowned composers such as Pascal Dusapin, Jonathan Harvey, Cristóbal Halffter, Salvatore Sciarrino and Beat Furrer among others.
The Trio Arbós has appeared frequently in major concert halls and festivals in more than 30 countries: Vienna Konzerthaus, Moscow Tchaikovsky Conservatory, Helsinki Sibelius Academy, Buenos Aires Teatro Colón, Auditorio Nacional of Madrid, Kuhmo Festival, Festival Time of Music of Viitasaari, Biennale di Venezia, Festival Musica of Strasbourg, Nuova Consonanza of Rome, Wittener Tage für Neue Musik, Klangspuren Festival, ULTIMA Festival of Oslo, NUMUS Festival of Toronto, Santorini International Music Festival, El Salvador International Music Festival, Ryedale Festival, San Sebastian Quincena Musical, Santander International Music Festival, Alicante Contemporary Music Festival, Ensems of Valencia, International Festival of Granada, etc. They have also premiered triple concertos by César Camarero and Roberto Sierra with the Spanish National Orchestra and the Radio Television Orchestra of Spain.
The Trio Arbós has recorded the complete piano trios by Joaquín Turina and Roberto Sierra for NAXOS, music by Jesús Torres and César Camarero for KAIROS and a dozen other CDs for labels like COL LEGNO, VERSO or ENSAYO with music by Spanish and Latin American composers. The prestigious magazine Gramophone said of of their acclaimed CD "Play it again": "This disc reaffirms the credentials of Trio Arbós as among the most inclusive and forward-thinking of chamber ensembles."
Since 2005 Trio Arbós holds a residence at the Reina Sofía Museum of Contemporary Art of Madrid. Their projects Triple Zone and Flamenco envisioned have been supported by the Ernst von Siemens Musikstiftung.
RAFAEL DE UTRERA, flamenco singer
Rafael was born in Utrera, a place full of flamenco singing and dance. He began to sing at his father ́s tavern "El Punto". Shortly after, he started performing. At 21, he started his career as a professional singer accompanying flamenco dancers.
From then on, he began to sing for well-known flamenco figures such as Cristina Hoyos, Joaquín Cortés, the Andalusian Dance Company, Israel Galván, Farruquito, Eva "La Yerbabuena", Carmen Cortés, Manuela Carrasco and many others. The dancer Cristina Hoyos will play a key role in his career. She has showed him her unconditional support and affection in tough times of his career.
He also has had the honour of accompanying some of the greatest guitar soloists such as Tomatito, Gerardo Núñez, José Antonio Rodríguez, Vicente Amigo and the Maestro Paco de Lucía. Furthemore, he has sung with the pianist David Peña Dorantes and with the Metropole Orchestra of The Netherlands under the direction of Vince Mendoza. Rafael de Utrera's intense artistic career has advanced impressively in recent years.